August 2023 Quarter or Half Beef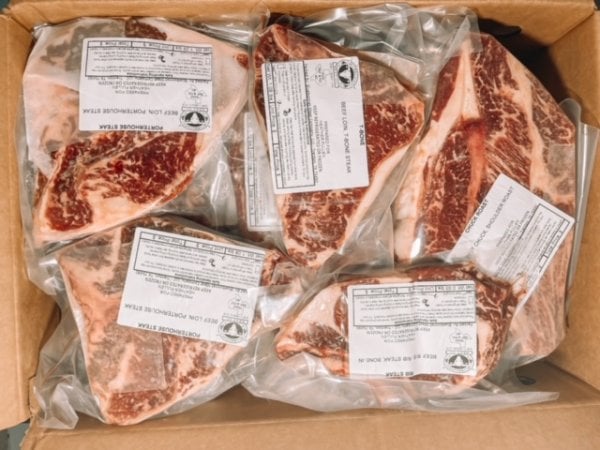 0.25 Whole Beef | Approx 120 pounds @ $9.90/pounds = $1188.00 + $40.00 Assembly
0.5 Whole Beef | Approx 240 Pounds @ $9.80/Pounds = $2352.00 + $40.00 Assembly
1/4 or 1/2 Beef that will processed in mid-August 2023 and will be ready for delivery in late August.
*Price for this item INCLUDES Processing Fees*
*Deposit will be subtracted from final invoice
*Final invoice must be paid before delivery

There's so much value and peace of mind gained when you purchase beef in bulk to stock your freezer. Whether you plan to use it in just a couple of months or over the next year, easy, healthy meals are at your fingertips when you're well stocked with our premium grain-finished beef!

The Quarter Beef is a great value that gives you all the beef cuts like steaks, roasts, flank steak, brisket, ribs and ground beef. While there are many factors that affect the total amount of beef you receive (size of the animal, amount of fat etc.), our 1/4 beef generally produces an average of 110-130 pounds of take-home product.

~ Recommended for families with 1-2 adults and a kid or two
~ Will take up half of a small chest freezer or 25% of small upright freezer
~ Each cut is individually wrapped, except steaks which generally come 2 per pack
~ Includes New York steaks, Rib Steaks, Tenderloin/Filets, Sirloin Steaks, a variety of 2-3 lb. roasts, arm, top, bottom
and/or chuck, flank steak and/or brisket, beef shanks, stew meat, short ribs and ground beef.

Your 1/4 beef will include approximately:
25% Steaks
35% Roasts and misc. cuts like stew meat and short ribs
40% Ground Beef

There is a $250 deposit required to reserve your 1/4 beef. You deposit will be subtracted from your final cost. To reserve your 1/4 beef, please go to "Bulk Order Deposit*

For more information about the details of ordering beef in bulk, go to the ¨More Info¨ tab and click on ¨Bulk Beef.¨

Half Beef Details:
If you're thinking about a quarter beef, maybe get a friend to go in with you and get a half! While the package weight is different for each animal, you can expect around 220-240 pounds of beef. Recommended for large families with 2 adults and hungry kids. Will take up to 50% of a large upright freezer. Half beef orders require a $500 deposit to reserve your spot.

*FREE HOME DELIVERY in Hunt, Rockwall, Delta, Hopkins, and Collin Counties.