September 2023 1/4 or 1/2 Beef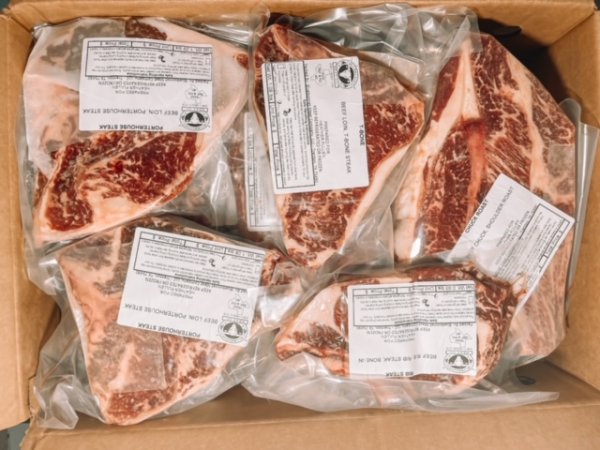 0.5 of a whole beef | Approx 250 pounds packaged weight @ $9.80/pounds packaged weight = $2450.00 + $40.00 Assembly
0.25 beef | Approx 120 pounds packaged weight @ $9.90/pounds packaged weight = $1188.00 + $25.00 Assembly
*Price per pound is on the FINISHED weight. The amount of take-home meat is described below
*Price for this item INCLUDES Processing Fees*

There's so much value and peace of mind gained when you purchase beef in bulk to stock your freezer. Whether you plan to use it in just a couple of months or the next year, easy, healthy meals are at your fingertips when you're well stocked in premium grain-finished beef! We know you're making a lot of decisions when you take the step to purchase bulk beef. We hope that this page will help you understand some of the finer details of purchasing in bulk, and give you an accurate idea of what you can expect from beginning to end. Our goal is for you to be informed and to understand (and enjoy!) the process.

Quarter Beef
The Quarter Beef is a great value that gives you all the beef cuts like steaks, roasts, flank steak, brisket, ribs and ground beef. While there are many factors that affect the total amount of beef you receive (size of the animal, amount of fat etc.), our 1/4 beef generally produces an average of 120-150 pounds of take-home product, depending on bone-in or boneless selection. Recommended for families with 1-2 adults and a kid or two. Will take up half of a small chest freezer or 25% of small upright freezer. Each cut is individually wrapped, except steaks which generally come 2 per pack. Cuts include T-Bone & Porterhouse steaks, Ribeye Steaks, Sirloin Steaks, a variety of 2-3 lb. roasts, arm, top, bottom and/or chuck, flank steak and/or brisket, beef shanks, stew meat, short ribs and 1 lb. packages of ground beef. Your order will include approximately: 25% Steaks, 35% Roasts and misc. cuts like stew meat and short ribs, 40% Ground Beef.

Half Beef
Half and whole beef customers at Pullen Family Farms enjoy the best value and get all the bones and organ meat. If you're thinking about a quarter beef, maybe get a friend to go in with you and get a half! Custom processing is available for 1/2 or Whole Beef. While the package weight is different for each animal, over the last number of years the average take-home amount of a half beef has been around 220-250 pounds of beef. Recommended for large families. Will take up to 50% of a large upright freezer. Your order will include approximately:
̃25% Steaks
̃35% Roasts and misc. cuts like stew meat and short ribs
̃40% Ground Beef

Once processing is complete, we will contact you to deliver the beef to you.